Testimonials for Shannon Jackson & Glenda Warren-Adams
We highly recommend Shannon Jackson and Glenda Warren-Adams as excellent realtors who have: extensive experience and sound / logical advice, outstanding communication skills and uncanny ability to pull out our priorities, negotiation skills are sooo good, they were able to purchase our new "show" home even when it wasn't on the market yet! We were grateful for their high level of professionalism and calmness during tight negotiations, were very responsive to our questions, concerns and fears throughout the entire process. They will be our REALTOR® for life! – Gail Dunlop
You guys are great. Every deal they've helped us with has been seamless. We've recommended Glenda and Shannon to family and friends and all have been very happy with the results. – Stacey Warren-Davies
I met Shannon in a kiosk in Mayfair Mall in the late 90's. We hit it off instantly, In the past 20 years Shannon and Glenda have been with me for 3 purchases and 2 sales. Yesterday they sold our Townhouse after only 2 weeks on the market and Shannon also found us our perfect new home. Shannon will always be our realtor, and I would recommend Shannon and Glenda to anybody who wants knowledgeable, professional and dedicated realtors with a relaxed and fun experience.

-Janette & Pam
Shannon and Glenda helped us buy 2 houses and sell one , they both were available 24/7 for us. They took the time to listen to our needs , gave recomendations they made the whole process easy.

-Tammy Yhde-Riis Skou
Having never met Shannon or Glenda before our house hunting trip, they immediately made us feel at ease with their warm personalities and great sense of humor. Glenda then had the patience to show us countless properties and never made us feel pressured to propose an offer until we were ready. Her knowledge and expertise of the real estate market made our home purchase that much easier. When it came time to sell our house Glenda and Shannon made the process effortless. Would highly recommend these ladies to any military member or family!

-Nicole Guinan
My husband and myself have relied on Shannon and Glenda's professional and expert advice with our real estate transactions. They are very professional and knowledgeable agents. I would highly recommend them with all your real estate needs.

– Janice Willis
Our experience with Glenda was fantastic and Glenda made sure to go out of her way to educate us on the process and ascertaining that we were getting what we wanted.

Being that it was our first experience with home buying, our stress levels were quite high. Glenda was able to facilitate that experience and bring the stress down, as well as making sure that we were aware and knowledgeable about every steps of the way….And there are a lot of steps! The service and professionalism received was impeccable and Glenda ended up helping us sell our house 4 years later and again, making the experience a breeze. Thank you Glenda and your fantastic team! I would certainly seek for her services again should I require them and would highly recommend Glenda and her team to anyone looking to buy or sell a home.

– Francois Michaud
We have worked with Shannon and Glenda on 2 house purchases and 2 sales, and they are a wonderful team! They provide detailed information on the properties we purchased, and went above and beyond when selling each home. They took care of all the details and presented our properties beautifully. Which resulted in smooth effortless sales of our homes. I would highly recommend them both, and have referred them to friends and family often.

– Niki Ottosen
Glenda and Shannon are a great team! They make every part of the process very easy. I have recommended them to many friends and family and we have all been very impressed! Thank you!

– Crystall Macdonald
I can't say enough about how wonderful our experience was with Glenda helping us sell our home & finding us our perfect new home ! Glenda was so knowledgeable , professional & always able to answer any & all questions we had.

She truly took the time & really cared that we found a new home that we love

I highly recommend Glenda for all your real estate needs !

– Tammy Brown
We were referred to Shannon in 2015, and couldn't have been more pleased. Shannon is so friendly, very knowledgeable, a good negotiator, has great follow-up, with a get-it-done attitude. Within days of our home being listed, we received a full offer and couldn't have been happier. Shannon continues to be our realtor today and comes highly recommended because of her professionalism and personal touches. If you are looking for a realtor who is dedicated to her clients and hardworking, then you will not be disappointed.

– Pamela & Sebastien
We moved in so it's time for this … Shannon Jackson was recommended to us and are we happy that she was! She quickly found out what we like and don't and showed us around accordingly. We quite enjoyed our little trips around Victoria, Langford and Sooke. 

It's very obvious that Shannon gained a lot of experience over the past years and is very good at her job. Going the extra mile seems to be a given with her and that's why almost everything always worked out as wished for, or promised. 

Especially as first time buyers and newcomers to

we felt very well looked after, well informed and guided along the way. If somebody asked me for a really good realtor, I'd definitely recommend Shannon.

– Catrien Stremme
Shannon and Glenda were amazing to work with. They made every step of the process stress free with their honest, personable and professional approach. Communication was great from our first meeting, through the selling process and finally with the purchase of our new home. Our sale was incredibly smooth and had 3 offers after the first couple days. Their advice and experience helped us prepare our house for viewings and their dedication and availability made our search for a new house effortless. We highly recommend Shannon and Glenda for all of your real estate needs.
We chose Shannon and Glenda over another REALTOR® because they made us feel very comfortable with the whole process and we felt confident with their professional knowledge.

– Amy Markham & Darrel Fouracres
Shannon and Glenda's honesty and professionalism were very helpful and made us feel very comfortable. They have a great respect for their clients and we would definitely recommend them to anyone we know—especially first time home buyers.
Thank you both for the wonderful job you did on the sale of my home. It is certainly a reflection of your ability and determination that with few sales happening at the time, mine was one of them.
Follow up, follow up, follow up!! Both Glenda and Shannon were always on top of everything, following up to make sure we were kept up to date on everything. I want to know your system!!
Shannon and Glenda were very positive, enthusiastic and upbeat. They have a great knowledge of the market and ability to sense our needs.

– Debra Whitman & Brian Wastenage
Excellent communication skills
Excellent customer service skills
Excellent attitudes
Excellent results
Professional—Organized—Sensitive to my situation and kept in touch! Appreciated the information guides provided.
I'm very satisfied, Shannon and Glenda are very professional and have a terrific sense of humor which made the experience fun!! They were easily accessible, stayed in touch and above all were very honest about the market. I felt I was their only client… they treated me with great respect and I will HIGHLY recommend them.
Re-sale, Re-sale, Re-sale! I liked that Shannon made me think about the future of any house we looked at. My experience was fantastic and Glenda and Shannon made the whole thing seem really easy and stress free.
Shannon and Glenda were so easy to work with. They were always there to answer any of my questions and were very thorough making sure to check every last detail. I really enjoyed working with Shannon and Glenda. This was my first purchase and I couldn't have asked for 2 better realtors®. They were phenomenal!
Perhaps Shannon and Glenda could attend high school career training seminars and demonstrate success for women in business related occupations!!
Shannon and Glenda always returned calls promptly. Shannon attended the home inspection and followed up on the concerns that we had by arranging for an electrician to check wiring concerns. Above and beyond!

– Allen & Shirley Stirrett
We found their level of service, professionalism, integrity and quality of advice far surpassed our expectations! We have highly recommended them to our close friends and family. There isn't any doubt we will remain loyal clients of theirs for all our future real estate needs.

– Gail Dunlop & Janet Imhoff
I have had the pleasure of working with Glenda and Shannon on several occasions over the years. Each time it has been a tremendously exciting experience. They both took the time to get to know me and were attentive to what I was looking for. They worked tirelessly to find me the perfect home each time. The knowledge, respect and integrity these two ladies bring to the buying and selling process of real estate is extensive. I give them 5 stars *****
Working with Shannon and Glenda to find our first home was a great experience. As first time homebuyers we had lots of questions and were nervous at times. Shannon and Glenda answered all of our questions and anticipated what we needed to know in order to make the best decision for our family. If you're looking for down to earth realtors who will work hard to make sure you're confident with your purchase, these realtors are for you. If you value honesty and a straight forward clear approach, you'll be very happy with Shannon and Glenda.

– Jenny Holder and Jackson Whiting
Shannon and Glenda are consummately professional, hugely knowledgeable, friendly and caring and they always put their clients first. They spent a considerable number of hours on the phone listening to our gripes and grumbles without ever once complaining. We feel that we owe them a considerable debt of gratitude for finally helping us to find the house of our dreams.

– Linda and Andy Dawson Reid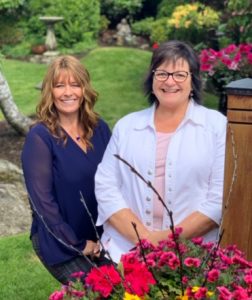 Glenda Warren-Adams(Left) and Shannon Jackson(Right) REALTORS®