THE TOWNSHIP OF ESQUIMALT
Esquimalt is the municipality immediately to the west of Victoria. It offers a variety of interesting contrasts in lifestyles with an abundance of parks, foreshore vistas and a marina.
Esquimalt has a strong mix of high quality residential properties, some excellent waterfront properties and a very active business community including a light industrial district. It has a well-established community spirit and all of its services were well-developed many years ago. Some of Esquimalt's most attractive residential areas are Saxe Point and Rockheights.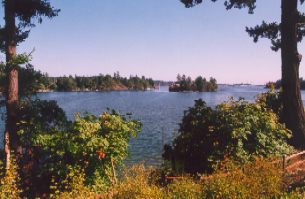 Esquimalt has a full range of recreational facilities including a curling rink, indoor swimming pool, recreation centre and the top-ranked Gorge Vale Golf Club.
Facing the western approaches from the sea, Esquimalt is a very pleasant and sun-filled location. It is home to the Department of National Defence and headquarters of Canada's Pacific Naval Fleet. Canadian Forces Base Esquimalt employs around 4,000 military and 3,000 civilian personnel, making it a significant contributor to Victoria's economy.
For more information, visit the website of The Township of Esquimalt.